Bitcoin Price Update
At the time of this writing, Bitcoin's price is $10,556.16 US dollars, down approximately 1.18% from the day prior. This is the 2nd consecutive day that Bitcoin has moved down, and the coin's trend over the past two weeks is down. As price is currently close below its 20 day average price of $11,085.11, we may interpret that to mean climbing above the 20 day moving average may help foster bullish momentum. On the flip side, for those who prefer a rangebound view when trading, Bitcoin's trading range — based on its momentum and volatility over the past two weeks — is between $9,397.66 and $12,772.55 (in US dollars). In terms of its overall importance in the cryptocurrency market, Bitcoin's current market capitalization is $188.59 billion US dollars, which is about 65.14% of the market capitalization of all cryptocurrencies. It should be noted, though, that Bitcoin's dominance has been gradually moving up, reporting an average daily rise of 0.19% over the past 14 days. A rise in dominance may suggest cryptocurrency activity is consolidating on the Bitcoin blockchain, and thus participants of all kinds — investors, merchants, application developers — may flock to Bitcoin in increasing numbers.
Want to trade Bitcoin? Consider the following brokers: Binance, CoinDirect, WCX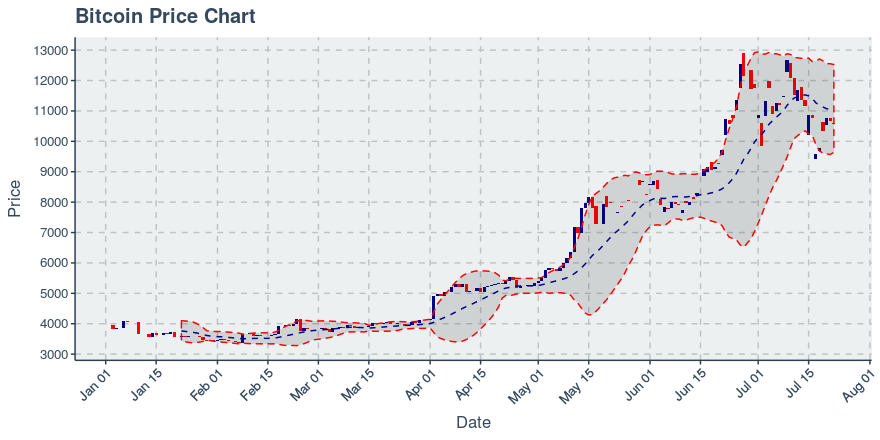 Daily Engagement and Hash Rate Metrics Update
Yesterday, the Bitcoin blockchain saw 283,934 transactions recorded on it. Daily transactions recorded on the Bitcoin blockchain fallen by approximately -4.03% this past week; to wit, the trend is clear at this time. If Bitcoin does not grow transactions, it may need to derive its value as a store of wealth. Yesterday, Bitcoin's average fee per transaction came in at $1.66. The size of the typical transaction on Bitcoin's blockchain is down 12.75% in US dollars; meanwhile, the fee for sending transactions has been declining by 17.12% per week. In terms of how much computing power Bitcoin is using, over the past 30 days its hash rate has continued to bounce around , ultimately rising daily by approximately 0.3%. A trend in hash rate that is unclear suggests that mining is becoming harder to understand, and that the chain is thus being a point to bear in mind. This may not help Bitcoin attract more high value transactions.
Bitcoin's Wealth Concentration and Activity
2.86% of the 547.92 million Bitcoin wallets holding a positive balance have transacted within the past 30 days. It should be noted that over the past two weeks, the number of monthly active users of Bitcoin has been heading by about 55,555.3 per day. The top 1% of Bitcoin wallets hold over 90.72% of the outstanding Bitcoin.
Article by SixJupiter