(Last Updated On: December 20, 2018)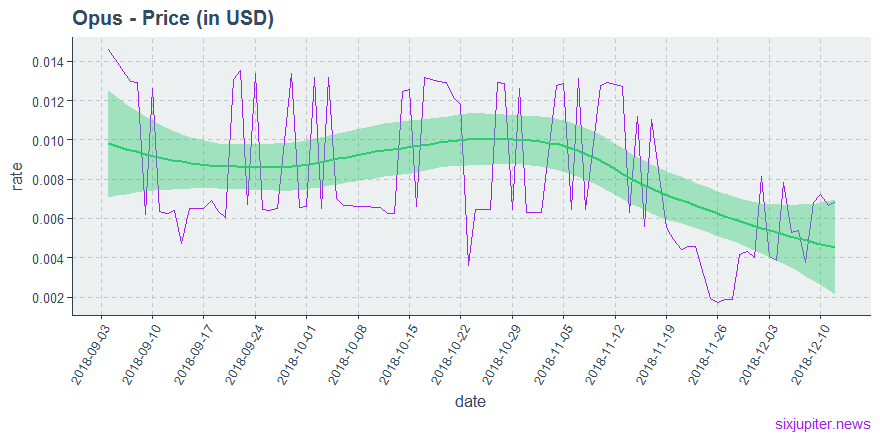 | | |
| --- | --- |
| Address | 0x4355fc160f74328f9b383df2ec589bb3dfd82ba0 |
| Twitter Handle | opusfoundation |
| Rate (in USD) | 0.0035697109 |
| Market Cap (in USD) | 500047 |
The music industry is broken. Streaming platforms such as Spotify, Deezer , and Apple Music take up to 80% of artist's revenue, and while larger artists can accept it, small artists are often unable to make a living from music streaming.
decentralized music distribution using interplanetary file systems (ipfs) on the blockchain.
this is achieved by encrypting music tracks on the go and storing the encrypted music files permanently on the ipfs swarm.
scalability of ipfs opus files by running their own ipfs node.
opus ipfs content referencing © 2018 opus stream limited 17 front-end user applications: opus core players the opus team has developed players for three platforms: web, android, ios.
switching incentives nature of the blockchain and ipfs swarm, we can expect more artists releasing their songs on opus than on traditional platforms.
why opus needs to be decentralized corresponding smart contract ipfs hashes running on ethereum.
Read Full White Paper
| | |
| --- | --- |
| Estimated Available Supply | 140080549 |
| Total Supply | 249308531 |
| Dilution Factor | 0.561876276107054 |
| Pct of Total Supply in Large NBNI-1 Wallets | 0.436637417045479 |
| Pct of Total Supply in Large Anon Wallets | 0.874761143029284 |
| Pct of Total Supply in Large ID Wallets | 0.0947155222624851 |
| | |
| --- | --- |
| Ethereum Correlation | 0.280952751685192 |
| Bitcoin Correlation | 0.372432724733462 |
| | |
| --- | --- |
| Follower Count | 3553 |
| Verified Follower Pct | 0.00220143093010457 |
| Investor Follower Pct | 0.0374243258117777 |
| Avg Follower/Friend Ratio | 2.85353672014715 |
| Avg List Count | 15.8937809576225 |