(Last Updated On: May 2, 2019)
Top Performers and Notable Moves
Since yesterday, the coin that fared the best out of the 131 coins in our index was VIBE, whose price is up 14.52%. The next three best performing currencies were Everex, Viacoin, and Genesis Vision, which gave holders daily returns of 8.9%, 4.69%, and 3.17%. These moves were quite significant, in the sense that they were well outside of the volatility each of the respective coins had seen for the past two weeks.
Crypto brokers to trade the currencies mentioned here: Gate, Yobit, Stex, Binance, DDEX, Ethfinex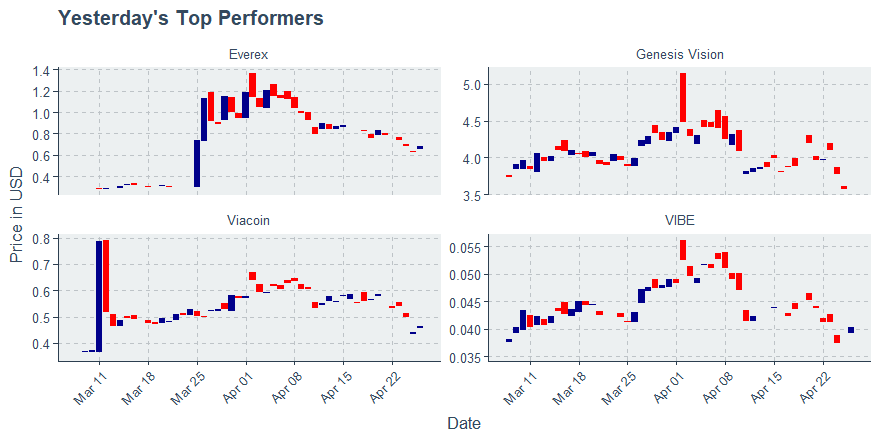 A Macro View of the Crypto Market
Overall, the average change in coin price for the coins we're tracking was down -4.8802%. On a more granular level, 8% of the coins we're tracking were up while 92% of the coins were down. The chart below shows the average daily change for all the coins in our index over time. Since yesterday, 5 have crossed their 20 day moving average; these coins may be of interest to traders who believe the 20 day moving average may be a key level that draws traders in.
Crypto brokers to trade the currencies mentioned here: Gate, Yobit, Stex, Binance, DDEX, Ethfinex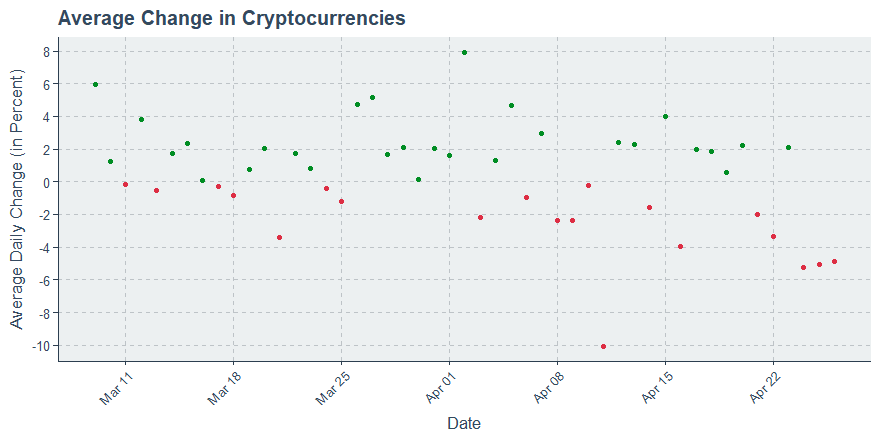 Key Price Technicals in the Crypto Market
Those 5 coins are: Enjin Coin, ICON, Nano, Tael, Waltonchain. Volatility traders may also wish to note that 81 of the 131 we are monitoring have had their volatility contract over the past two weeks. Contracting volatility often leads to a big move in price, so this may be something to monitor. Going further, below is a chart showing 4 currencies with contracting volatility that are trading below their 20 day moving average. Is this a technical sign the sellers are exhausted and the market for these coins is ready for a rally?
Crypto brokers to trade the currencies mentioned here: Gate, Yobit, Stex, Binance, DDEX, Ethfinex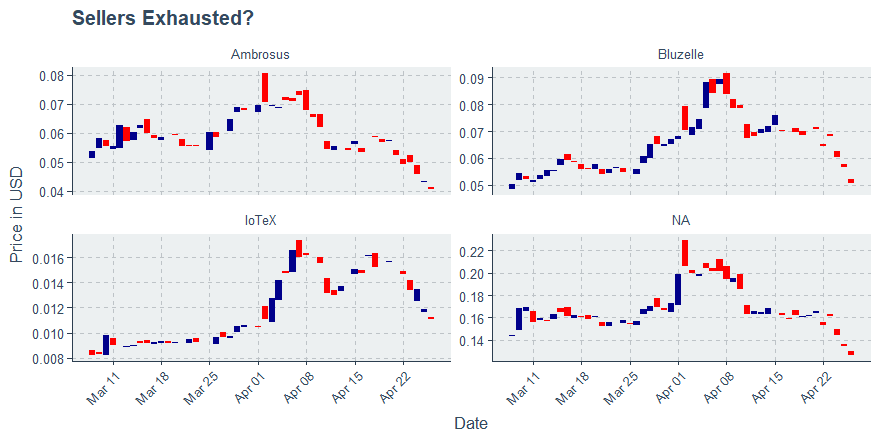 Links to Check Out
Kriptomat To Be The First Digital Currencies Platform To Share Profits With Users – Kriptomat
Launched in Tallinn, Estonia in 2018, Kriptomat is a fully regulated and secure, user-friendly platform to trade and store cryptocurrencies.
Crypto Titan Predicts Bitcoin (BTC) Wave to $500K – Plus Ripple and XRP, Ethereum, Tron, Litecoin, Stellar, IOTA | The Daily Hodl
Now, people say, 'Well that's ridiculous to talk about that.' I'm like, 'No it's not.' All big things start small….It's a little more important than a fax machine… So here we are on this next evolution of technology, where the blockchain era becomes the operating system for the Internet of Things and hundreds of billions of connected devices….Well, it gets big because of the S-curve of adoption, and we start growing exponentially." When asked if he really believes Bitcoin can climb that high, Yusko expanded on why he's so bullish….What's important to me about Bitcoin is owning a piece of the network….However, it's important to note, that North America is the starting point, but not exclusive to this expansion.
IMF Poll Shows Real Demand For Crypto Payment Solutions
The choices include cash, cryptocurrency, a mobile phone, and bank card….Therefore, we can assume that phone companies are laying out a strong foundation that can launch crypto payment adoption….Can Latin America benefit from a new monetary system that integrates Crypto payments seamlessly?…The popularity of Cryptocurrencies in Latin America presents an opportunity to build crypto payment solutions….MoneyFi seeks to address not only the growing demand for better remittance systems but the need to have a stable crypto payment solution in Latin America.
Article by SixJupiter